Exploration News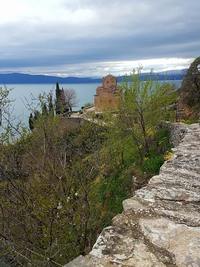 Ohrid is the city where you can take a real spirituality journey, or just admire the architecture of the all the amazing churches. The city is often called " Balkan Pearl" or "Jerusalem of the Balkans". It had once 365 churches, one for each day of the year. Ohrid has still many churches, and the most impressing of them all is St. John Kaneo Church.
---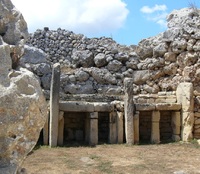 On a hilltop near Xaghra, surrounded by rippling palms, I explored the oldest free-standing structure on earth called Ggantija. Made some 5,500 years ago. The two temples of stones are so huge that the locals believed they were built by giants.
---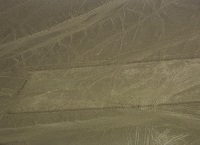 Message to the outer space, sacred place for rituals, guidance to water sources, or for another purpose? Practical use? Through previous years many new massive ancient drawings have been discovered.
---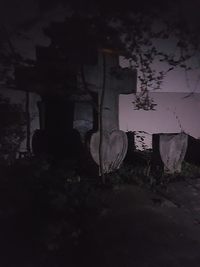 Searched for long forgotten souls in Zagreb, Croatia, on Friday the 13th October 2017. Ventured a step into the spiritual world where ghosts live. Walked around at graveyards and other haunted places: heard amazing stories about spirits, curses, witches, secret societies and even dragons. What is hiding in the darkness here?
---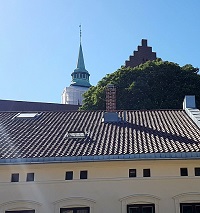 Akershus Fortress, Akershus Festning, or Akershus Castle, Akershus slott, is a medieval castle that was built to protect Oslo, the capital of Norway. It has also been used as a prison. This fortress is also reknowned to be the host of several ghosts.
---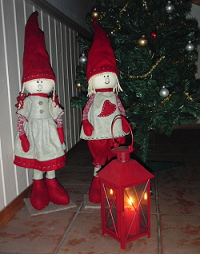 Christmas music is currently played in varied content, shape and quality, something very solemnly and something less pretentious. Some of the songs get me into party spirit and others do not. Some artists sing the Christmas in and others sing it straight out. For me, Christmas carols must be rocked up to get into the best Christmas mood. Then there is nothing better than listen to Christmas songs by Stiff Little Fingers, Sex Pistols, Bad Religion, Backstreet Girls, Pogues, Goldblade ft Polystyrene and Slade.
---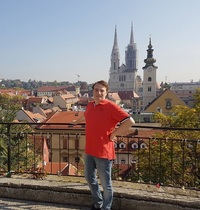 Instead of experiencing Croatia`s dazzling coastline, I admired the beauty of the country`s inland capital Zagreb. The city is full of open air galleries and architectural wonders, which make the city very much alive. Some of them are the Croatian National Theater, Mt. Medvednica, The Church of St. Mark, and the Zagreb Cathedral. Also the streets themselves are all architectural wonders.
---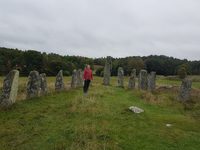 For almost 2,000 years, the Blomsholm Ship has 'sailed' across the meadows. It covers also a pre-historic grave: does it symbolise the buried person's last journey?
---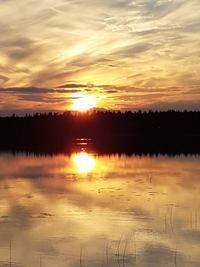 Enjoyed cottage life in Taivalkoski, in northern Finland. The cottage is an institution in the country. In the holiday seasons, Finns flock to the countryside for quietness and relaxation at cosy hideouts. At a cottage situated by a lake deep in the forest, I took my time to enjoy the midnight sun, silence, sauna, swimming and fishing - just as the Finns use to do.
---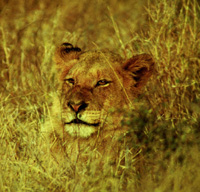 What are we going to do? The lions emerged from everywhere, and we where stuck in the middle, literally told. Suddenly we heard a scream from the tent next to us. We didn't see anything, but we feared the worst.
---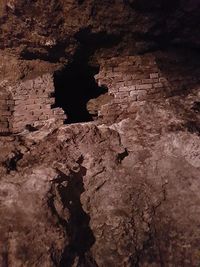 Over the centuries, attackers and defenders have carved a vast network of underground tunnels, fortifications, storage areas, command posts and bunkers beneath Belgrade. Now it was time to take a closer look.
---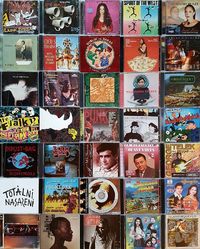 Music takes me back to places I have visited. Collecting music from around the world is my big hobby. After a journey I enjoy listening to music from the places I have been, relax and work through my memories. Each country has its own unique music, and that`s make it more interesting.
---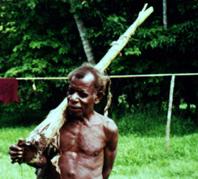 One of the most fascinating tribes who live there is the Insect tribe. Hunting crocodiles is their specaility. Joining them on a hunt in Upper Sepik was a suspense thrill. We got the ultimate adrenaline kick, but it almost ended in tradegy.
---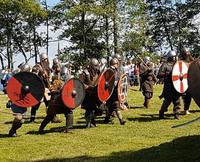 The Norwegian Vikings are still going strong. Full action at the festival Olavsfestivalen today 15th July 2017 in Landeparken by Tunevannet in Sarpsborg, Norway.
---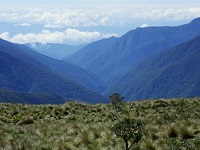 Some of the recent discoveries around the world that shed new light on ancient history are: the tombs of Jesus and Genghis Khan, new Dead Sea Scrolls fragments found in Judean Desert, lost cities in Cambodia, Egypt, Greek, Britain and Isreal, dinosaur footprint among largest on record discovered in Mongolia's Gobi Desert, Neanderthals built structures in a cave in France, a new Viking settlement in Canada, Altar of miracle-making Viking King discovered in Norway, and a submerged Mesolithic settlement. These and other discoveries this year might be far more than most people could ever dream about.
---
Top-Five Stories

Meeting the Mudmen
in Papua New Guinea



See the video HERE