Here we present the greatest experiences from wildlife and safaris. All your adreline will freak you, and give you memories for the rest of your life....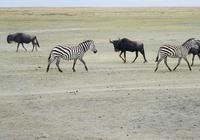 The most spectacular experience in the Serengeti National Park is the annual migration when more than 1,500,000 wildebeest follow some 200,000 zebra in a 2,000 km round pilgrimage.
---
---
---
---
---
---
---
---
---
---
---
---
The planet is still alive, according to Marie-France Grenouillet, a French wildlife photographer. She has travelled around the world since 1979 taking photos. As Marie-France says about her mission: I want my photos to make people dream and then help to protect the wonderful wildlife in the world.
---
---
Continuing wildlife population declines and range contraction in the Mara region of Kenya during 1977–2009. This is based in an article first published online 20th May 2011 on the website Journal of Zoology, and it was published in the magazine The Zoological Society of London, Volume 285, Issue 2, pages 99–109, September 2011

---