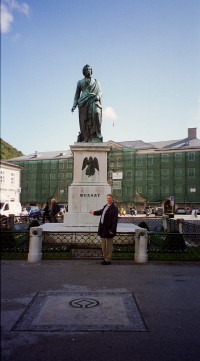 Photo.
A statue of Mozart. © Travel Explorations.
Mozart 2006 events in Salzburg for celebrating the 250th Anniversity:
Based on information from the website Tourismus Salzburg (www.Salburg.info), the program of events during the Mozart year in 2006 will have four focal points:
• Young Mozart • Mozart as reflected in the avant-garde including the 'Kontra.com' avant-garde festival
• The entire musical theater works (performance of all operas and musical theater compositions)
• The roots from which Mozart's work originated (church music, folk music)

There will be arranged 29 special concerts in Salzburg featuring Mozart's most captivating music in the Mozart Year 2006. The Mozarteum Orchestra and the Salzburg Chamber Soloists will perform.

You can also explore the Mozart's Birthplace. The American artist, director, stage and light designer, Robert Wilson, has redesigned the exhibition of the Mozart family's original apartments.
Card Package Best of Mozart
Package available from February 24 - July 21, 2006 and September 1 - November 11, 2006, Friday to Sunday.
- 2 nights accommodation, breakfast buffet incl.
- 1 ticket for the special concert "Best of Mozart" (B category - either Friday or Saturday)
- Salzburg Card for 48 hours incl. entrance to the special Mozart 2006 exhibition: "Viva!Mozart"
Direct link for information about Mozart events: Mozart events 2006.
For more information about how to celebrate Mozart, click on the link: www.Salzburg.info .
Stein Morten Lund, 21 February 2006
Additional information
Read more about Salzburg and surroundings on our website: Travel Explorations

Enjoy The Original Sound of Music Tour:
A sightseeing tour including the City of Salzburg, breath-taking views of the countryside and real life movie locations.
UNESCO world's cultural heritage:
Two significant cultural sites in Austria were placed on UNESCO's list of the world's cultural and natural heritage on January 1, 1997: Salzburg Old City and Schönbrunn Palace.
Hohensalzburg Fortress:
This beautiful bulding was built on a top of a hill. Here you can get a wonderful panorama view over the city. Built in 1077 by Archbishop Gebhard, considerably enlarged by Archbishop Leonhard von Keutschach, largest, fully-preserved fortress in central Europe.
Tourist information in Salzburg:
Tourismus Salzburg GmbH
Auerspergstraße 6, A-5020 Salzburg
Tel. ++43/662/88 98 7-0
Fax ++43/662/88 98 7-32
E-mail: tourist@salzburg.info
Website: www.Salzburg.info